GEO Mission and Vision Statement
June 13, 2010
The GEO Mission

The Grassroots Economic Organizing Collective (GEO) of the Ecological Democracy Institute of North America (EDINA) is committed to providing a Solidarity Economy News Service (SENS): one place where anyone can go to find a systematically-organized, 24/7, in-depth knowledge base about the US and global solidarity movements.
Who and what GEO is today?
GEO stands for Grassroots Economic Organizing. We are a collective that writes, edits, and publishes not only the GEO Newsletter, but also GEO Gleanings (news bits and announcements of future events in the solidarity economy world), and the GEO Calendar.
We are a media collective with a deep and broad history of distributing information about alternative democratic, community, and economic organizing. We have been doing this for over 20 years through a democratic, self-management structure. And we now have a strong web platform.
In addition, GEO actively networks and organizes. GEO is a co-founder of both the Eastern Conference for Workplace Democracy and the US Federation of Worker Cooperatives. GEO is also a charter member of the US Solidarity Economy Network. Before there was an ECWD and USFWC, GEO -- from its inception -- was the only national organization that advocated for worker cooperatives. GEO's Economy of Hope was the first state-by-state directory of worker cooperatives in the U.S. Our members are long-term activists and scholars in various sectors of our movement, and produce the GEO Newsletter mostly on a volunteer basis. (See our bios at http://www.geo.coop/bios.)
Solidarity
The "solidarity economy network" is a movement for building a new kind of economy, one that formally puts people and the planet first. It operates from the conviction that our task as people working for more just, democratic and sustainable futures is not to invent a new economic blueprint from scratch and then convince the world to adopt it, but rather to participate together in ongoing work to strengthen, connect and build upon the many economic practices of cooperation and solidarity that already exist in our communities and regions. We do not need to wait for a revolution. We can begin here and now, in our communities and regions, connected with others around the world, to construct the relationships and linkages that will form the basis for new cultures and economies of solidarity.
In addition, there are many in the ecological, social justice, and civic engagement sectors who are not economic in their primary orientation, but who are equally committed to grassroots organizing and building just, democratic and sustainable futures. All of us are fellow-travelers and seekers in what we can call a democratic solidarity movement for the 21st century.
The Vision
GEO Tomorrow: moving toward our vision
The core idea is for the GEO Collective to gradually transform itself so that it can help design and build a Solidarity Economy News Service (SENS). The information would include news, features, analysis, opinions, blogs, etc.
We are thinking of this as a 5 to 10 year project.
We cannot do this alone. In our initial vision, the service would involve a democratically-governed coalition of organizations, with GEO and similar media services being the unit that aggregates and re-distributes the information vital to our movement.
Right now we need to grow GEO considerably so we can gather more information from all regions and all sectors. We need to recruit and integrate more writers, editors, graphic artists, social media experts, individuals with other skills, and interested organizations to help make this vision a reality.
Over time the Solidarity Economy News Service would grow to include:
a weekly round-up (or more frequently as demand and capacity advise) of information from all sectors, GEO members, and free-lance sources
a daily e-newsletter, stories, features, and opinions
photos of the movement activities
original art by artists
a general calendar of events
a solidarity Craig's list
issue-oriented electronic forums
an action research journal
a blog service
and more of what we can envision together.
We believe that SENS should eventually become a self-funded service.
Getting Started
Our movement needs a central, non-partisan clearinghouse, and GEO has the capacity to initiate building such a project, but only in collaboration with others. There are many links to connect and many threads to weave together before our vision can become a reality. So our mission necessarily commits us to involve, from the get-go, many individuals and organizations in building this solidarity information service.
It will be essential to build organically, and it will only happen through trial and error. This will take the time it needs, and GEO is committed to giving it that time. We will continue to publish as we have in the past while we transition, step-by-step, toward establishing a SENS that would gather, distribute, and store relevant information about solidarity economy and grassroots organizing activities and thinking from all over the world.
Outside funding is a pre-requisite, at least for the beginning. Procuring that funding will be one of the first tasks. This will involve a funding committee, a developmental plan, a series of proposals, and coordinated outreach to potential funders.
Organizing the Service
As noted above, one of the key beginning tasks - which GEO has already started doing - is to build and sustain a network of writers and editors from all regions and sectors doing solidarity and grassroots organizing work. The Solidarity Economy News Service would draw on both the academic and activist worlds. In doing this it would be creating and holding a space for ongoing collaboration between researchers and practitioners.
In addition, the project requires a coalition of organizations interested in supporting the service actively and financially. The GEO Collective is committed to being a core part - along with other interested media organizations - of SENS, in terms of coordinating the project on a day-to-day basis including the essential web and administrative services. All interested individuals and organizations would participate in developing the necessary structure for a dynamic coalition.
One possible blueprint for this structure might be to organize by sectors. For example, two or three organizations within the cooperative sector would be responsible for organizing the editorial and writing resources from that sector as well as gathering the financial contributions from all the organizations that sign onto SENS.
If the sector blueprint is chosen as the way to structure the coalition, groups of organizations would self-identify as a sector they want to be a part of. This would be their home base within the coalition. Using the same example as above, food co-ops might want to form a Food Cooperative Sector rather than be part of a general Cooperative Sector, or even a more narrowly-defined Consumer Co-operative Sector.
Hopefully, many other blueprints would be considered in the process of building the coalition.
Self-financing the Service
For the long run we, the GEO Collective, believe that SENS should be self-financed as much as possible. This guarantees more autonomy than being totally dependent on funders and their priorities could. It would also enable the Service to focus what would be fund raising energies on the work of producing the Service. In addition, being self-financed could be a powerful statement to all of our movements of what is possible, and spark new imaginings of what they can do for themselves and their work.
What would be the sources of self-funding? Basically two: participating organizations and individual subscribers to the Service. We would want this to be a pay-as-you-can arrangement. For example, $1.00 to $100.00 a year for subscribers. Libraries would probably subscribe as well.
Success in this effort would probably require a permanent education process for individuals, organizations, and sectors so they would understand that their payments are funding the success and solidarity of all our movements who are committed to the idea that "another world is possible."
There are two other potential advantages to the Service being self-financed. One, the practice of producing the Solidarity Economy News Service would be constantly held accountable for meeting the needs and wants of the movements. Second, if each organization actively supporting SENS has a purposeful and financial stake in how it operates and what it produces, then it will have to pursue its interests via democratic negotiations with all the other participating organizations. This can provide an excellent opportunity for developing democratic practices and processes for sustained organization-to-organization networking and solidarity, which is a deep need among all our movements.
We welcome your ideas and input. JOIN US!
Log in to post comments

11456 reads
Support GEO - Buy Printed Copies of Back Issues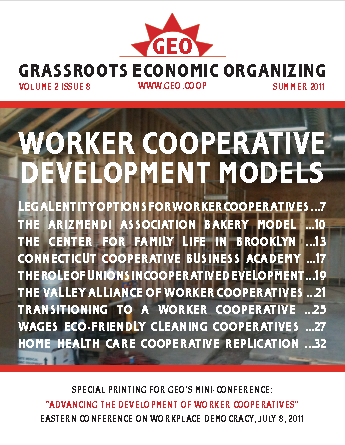 GEO is a volunteer-run collective and relies on your generosity.  We make our content free but also sell printed back issues in our store - each full of of grassroots documentation from activists and innovators.  
The trailblazing GEO 8: Worker Cooperative Development Models is available in a special printed 36-page magazine format.  Buy it in our online store, or contact GEO for bulk purchases or resale. 
All purchases help fund GEO, a volunteer-run collective project of the Ecological Democracy Institute of North America.