GEO 13: The Frank Lindenfeld Memorial
Frank Lindenfeld
This issue of the GEO Newsletter is a Memorial Tribute to Frank Lindenfeld, a founder of the Economic Democracy Institute of North America (EDINA), of "Changing Work", a print magazine dedicated to new visions of work and the workplace (a predecessor to the GEO Newsletter), and of the GEO Newsletter.
Section I: Frank's Biography
Section 2: Remembrances and Memories
Section 3: Documents By and About Frank Lindenfeld
Lessons for Building a Co-operative Movement
John Curl
In this interview GEO's Michael Johnson talks with John Curl about what is new in the second edition, the surprisingly long history of co-operatives here in the US, and what his history has to tell us about building a 21st century movement for a co-operative/solidarity economy.
A Night of Solidarity and Resilience in New York City
Click here to read Michael Johnson's report on this Solidarity event in New York City recently. The first paragraph is below but click through to read the full report.
On the Tuesday night of February 19th 70 people came together from all the boroughs in New York City for dinner and conference to explore ways they could support each other's work and grow a movement. In the aftermath of the devastating Hurricane Sandy they named the event "Growing a Resilient City: possibilities for collaboration in NYC's Solidarity Economy."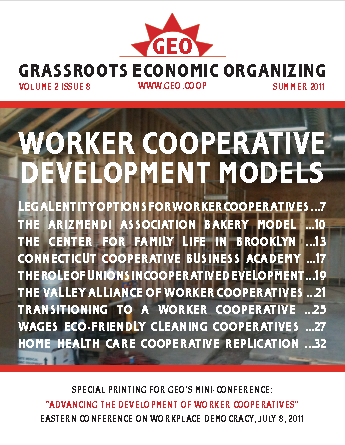 GEO is a volunteer-run collective and relies on your generosity.  We make our content free but also sell printed back issues in our store - each full of of grassroots documentation from activists and innovators.  
The trailblazing GEO 8: Worker Cooperative Development Models is available in a special printed 36-page magazine format.  Buy it in our online store, or contact GEO for bulk purchases or resale. 
All purchases help fund GEO, a volunteer-run collective project of the Ecological Democracy Institute of North America.