GEO #1 (vol 2): Grassroots Democracy In Action
Welcome to the first official issue of GEO's new electronic newsletter. We close the past twelve years and 77 issues (volume 1) and open a new volume in our work of sharing stories of hope, creativity and vision in the work of building a just, sustainable and democratic society. 
Democratic Practice Across Sectors 
Workplace Democracy in the U.S. 
International Models for Economy Democracy
Log in to post comments

8371 reads
Support GEO - Buy Printed Copies of Back Issues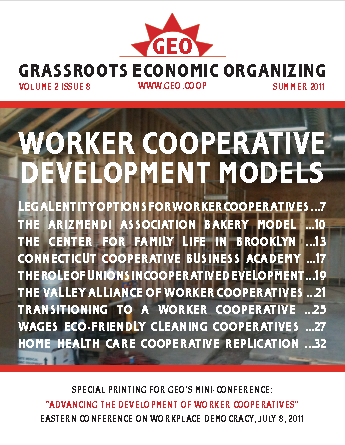 GEO is a volunteer-run collective and relies on your generosity.  We make our content free but also sell printed back issues in our store - each full of of grassroots documentation from activists and innovators.  
The trailblazing GEO 8: Worker Cooperative Development Models is available in a special printed 36-page magazine format.  Buy it in our online store, or contact GEO for bulk purchases or resale. 
All purchases help fund GEO, a volunteer-run collective project of the Ecological Democracy Institute of North America.