Resource Library
Welcome to the GEO Resource Library. Here you'll find a collection of documents that we see as key texts and resources for our work of imagining and building a solidarity economy. Some of these documents are theoretical, aimed towards building a big-picture story about where we are, where we are going, and how we might get there. Other documents are very practical, designed to provide concrete ideas and suggestions to people doing on-the-ground organizing of cooperatives and other solidarity economy initiatives. And finally, some documents combine the two approaches, suggesting strategies that can link our practices with the big ideas and vice versa.
If you have document that you're aware of and think should be a part of this library, please send them to us.
---
SOLIDARITY ECONOMY
---
INTERNATIONAL MODELS FOR ECONOMIC DEMOCRACY

---
WORKER COOPERATIVES
coming soon...
Support GEO - Buy Printed Copies of Back Issues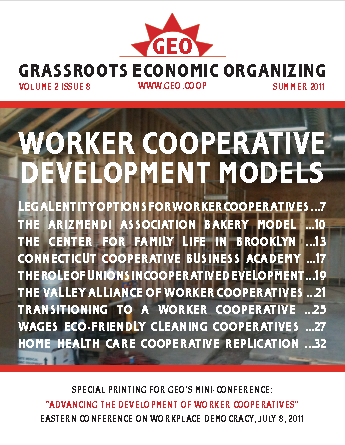 GEO is a volunteer-run collective and relies on your generosity.  We make our content free but also sell printed back issues in our store - each full of of grassroots documentation from activists and innovators.  
The trailblazing GEO 8: Worker Cooperative Development Models is available in a special printed 36-page magazine format.  Buy it in our online store, or contact GEO for bulk purchases or resale. 
All purchases help fund GEO, a volunteer-run collective project of the Ecological Democracy Institute of North America.