Exploring Cooperatives: Economic Democracy and Community Development in Pennsylvania and Wisconsin (Philadelphia, PA)
Submitted by
Marty Heyman
on March 29, 2012 - 1:35pm
Exploring Cooperatives: Economic Democracy and Community Development in Pennsylvania and Wisconsin
A one-day conference that explores what the urban areas of Philadelphia and Madison, and rural areas in Pennsylvania and Wisconsin, can learn from one another about building cooperatives and cooperative networks, and what cooperatives contribute to cities, regions, and states.
Wednesday, June 13, 2012
Drexel University, School of Medicine, New College Building
245 N. 15th Street (between Race and Vine), Philadelphia, PA
Speakers
Gar Alperovitz, Lionel R. Bauman Professor of Political Economy at the University of Maryland
Congressman Chaka Fattah (D-PA), author of the National Cooperative Development Act of 2011 (H.R. 3677)
Paul Soglin, Mayor, City of Madison, Wisconsin
Michael Nutter, Mayor, City of Philadelphia (invited)
Michael Swack, Professor of Economics and Management, Carsey Institute, University of New Hampshire
Jessica Gordon Nembhard, Associate Professor of Community Justice and Social Economic Development, John Jay College Department of African American Studies (Member of GEO Collective)
Steve Dubb, Research Director, The Democracy Collaborative
Case Studies
The conference will include breakout sessions and workshops that examine specific cooperatives in detail, comparing those in Pennsylvania (mostly from Philadelphia) and those in Wisconsin (mostly from Madison). Research will be published by the University of Wisconsin Extension.
Case study presentations include:
From Pennsylvania: Weavers Way, Mariposa, Greensaw, Lancaster Farm Fresh, Energy Cooperative Association of Pennsylvania, People-for-People Credit Union, South Philly Food Co-op, Kensington Community Food Co-op, Ecology, Homecare Associates, and Childspace CDI
From Wisconsin: Willy Street, Regent Street, Isthmus Engineering, Just Coffee, Union Cab, Organic Valley, Summit Credit Union, Mifflin Street, and Cooperative Care
For more information, please see the Web site.
Date:
Wednesday, June 13, 2012 - 1:30pm
Support GEO - Buy Printed Copies of Back Issues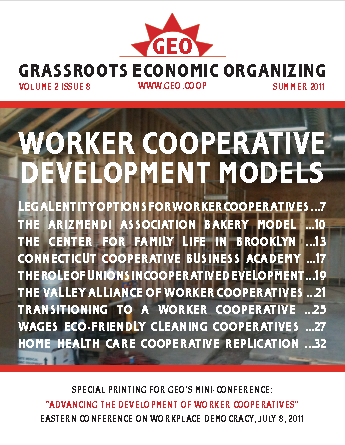 GEO is a volunteer-run collective and relies on your generosity.  We make our content free but also sell printed back issues in our store - each full of of grassroots documentation from activists and innovators.  
The trailblazing GEO 8: Worker Cooperative Development Models is available in a special printed 36-page magazine format.  Buy it in our online store, or contact GEO for bulk purchases or resale. 
All purchases help fund GEO, a volunteer-run collective project of the Ecological Democracy Institute of North America.