Video: Graeber and Harvey
Practices, Tools & Strategies:
The video embedded in the full story below is a session with David Harvey, a prolific author championing Freedom of the City and David Graeber, the Occupy Activist, Anarchist, Anthropologist. The videw is almost an hour and a half and both authors take substantial time to provide context on both the books and their feelings about #occupy. Harvey's book is Rebel Cities and Graeber's is Debt: The First 5000 Years. There is a lot of good thought and support for co-operative action and power.
Go to the full article for the video:
Log in to post comments

1440 reads
Support GEO - Buy Printed Copies of Back Issues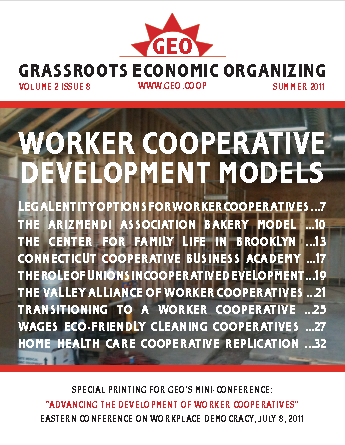 GEO is a volunteer-run collective and relies on your generosity.  We make our content free but also sell printed back issues in our store - each full of of grassroots documentation from activists and innovators.  
The trailblazing GEO 8: Worker Cooperative Development Models is available in a special printed 36-page magazine format.  Buy it in our online store, or contact GEO for bulk purchases or resale. 
All purchases help fund GEO, a volunteer-run collective project of the Ecological Democracy Institute of North America.